It occurred to me after having a conversation the other day with a new friend from the Tribe that I have not always responded to the Universe's tap on my shoulder.
So, I made this short video this evening as a means of clarifying some things for myself, and wanted to share it with you because I believe the message is Universal…
I have to confess: the Universe has put a cruise ship in my driveway more times than I care to admit and I, like so many others, have pretended it wasn't there.
I had my reasons. (Don't we all?)
I was afraid of getting "sea sick."
Timing wasn't "right." (Is it ever?)
And I wasn't ready to act.
Action is the key.
In fact, the Universe could send us a fleet of cruise ships us all day long and twice on Sundays and if we aren't "awake," if we aren't paying attention, we will miss every single one and stay put right where we are.
In all fairness, I don't believe it would be POSSIBLE to answer every tap. Indeed, I believe we are tapped more times than we CAN answer. So missing some taps isn't necessarily the problem.
There are very specific reasons why we notice the ones we do, and there are very specific reasons why we act on them when we do. If I had a magic formula to share that helped everyone know exactly which taps to answer, I would be a very wealthy woman indeed!
Alas, like everything else in life, there is a lot of mystery involved with the taps.
Sometimes the decision to act is easy, usually because we have been preparing for "the call" for quite some time before it comes. Our bags our packed and we are ready to set sail.
Other times, and probably more often the case than not, the decision to act is more difficult. While we recognize the tap is one to answer, we may not be as prepared, and thus have to weigh out the options, discuss things with loved ones, brood and reflect and ponder. Indeed, the call doesn't always come at the most convenient time. (It's the middle of the winter, we've put on some weight from the holidays, how can we possibly go on a cruise looking like we do…)
Once the decision is made and action begins, however, we move on it. And nothing is as it was.
Do things always work out perfectly for us just because we answered the call? Definitely not. Talk to anyone who had "made it" and they will be the first to tell you that the difference between them and those who are not successful is this:
They simply took more cruises.
And weren't afraid to get off the boat before the trip was over if things weren't working out.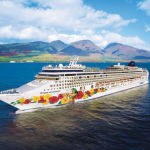 Has a cruise ship showed up in your driveway recently? Did you climb on board…or pretend it wasn't there, hoping it would go away and the neighbors wouldn't see? Are you in the process of making the decision to move on something you have been called to do? Please share your stories in the comment section below and pass along this post to your circle if you believe they would find it valuable!
All Aboard!