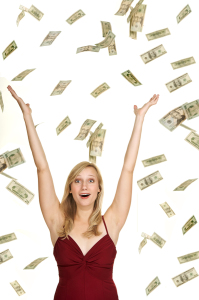 It's become a fantasy of many hard-working Americans: play the lottery, win the big pot, and then live a new life with all the luxuries and ease one could possibly want and never have to worry about money again.
But research suggests overnight riches can actually cause more harm than good in the long run, with more than half of all multi-million dollar lottery winners returning to their pre-winning financial status – or worse.
Several big lottery winners were recently featured in The Tampa Tribune, each with a unique story, but many laced with despair, broken hearts, and shattered dreams. One woman lost everything – her kids, her husband, her friends, and now she awaits a hearing for tax fraud.
A San Francisco Chronicle article titled "Big lottery winners know a lot about what not to do" states:
"Research shows that a significant number of lottery winners lose their winnings within five years, said Stephen Goldbart, a psychologist and co- director of the Money, Meaning and Choices Institute in Kentfield, which advices people who come into financial
windfalls.
"We've seen people who had decent marriages who came into money and it destroyed the marriage. Bringing a huge amount of money into the scene is a life-changing event," Goldbart said.
There is even a story about a hermit who drank himself to death just two years after winning $2.57 million (1.8 million pounds) in the lottery.
Compare these stories to ones about self-made millionaires and you will see there is a significant difference between the lives of people who get "windfall" money vs. money that is earned over longer periods of time.
Becoming a self-made millionaire is also a dream many Americans have, and the people who take action to create their fortunes through the old-fashioned ways of building wealth wind up far happier – and often far wealthier – than their overnight success brothers and sisters.
Why is this? Human psychology is a powerful force and plays an enormous role in human behavior. People who earn their fortunes over a long period of time have something a lottery winner never has: a sense of accomplishment. Human beings are wired to work, and when the rewards reflect the work we have done, something clicks in the brain that tells us we deserve what we've got because we did it.
This is excellent news for all of us entrepreneurs who are passionately pursuing our dreams using the latest systems, social networks, and cutting-edge business innovations. Not only will we appreciate the rewards we earn, but we will set an outstanding example for future business leaders and entrepreneurs who want to follow in our footsteps.
Indeed, our example of self-made wealth will be part of the legacy we leave to those who matter most to us.
Compare that to the overnight millionaires who have zero time to mentally adjust to their new-found wealth. Many of them say the whole experience is nothing less than overwhelming, and some winners even go so far as to get rid of the money as quickly as they can so they can go back to how they were before winning.
Not exactly a legacy to be proud of.
There is nothing wrong with playing the lottery and dreaming of a better life. But at the end of the day, your odds of enjoying and holding onto your wealth if you earn it yourself are far higher than if you pick the lucky numbers in Powerball.
I'm placing my money on myself.
How about you?