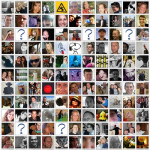 It's a typical Tuesday morning. You open your email account and find the following message in your in-box:
"John Smith wants to be friends on Facebook."
There is no personal message from John Smith regarding how you two are connected. Your brain begins to percolate:  "John Smith…John Smith…who the Hell is John Smith and how do I know him?"
You click on the link under the invitation. You are taken to your Facebook account where you see the request from John Smith. He looks like a decent guy. Brown hair, smiling face, clean clothes.
You click on his name and are taken to a glimpse of his profile. Nothing alarming there. Typical collection of likes, interests, photos…
Turns out you and John Smith have 63 friends in common. You click on that link to open the box that displays these names. Your eyes quickly scan down the list.
Good names, decent people.
Just like you.
Just like John Smith.
Now the moment of truth. Do you accept John Smith's friend request or not?
He has passed the test of having plenty of decent mutual friends, nothing on the Cliff Notes of his profile page that suggests he is a stalker or sociopath, and it would be nice to increase your friend numbers since you seem to be behind compared to lots of other people, especially the ones in the thousands…
Your hand moves the mouse…
Click.
"You and John Smith are now friends. Next, go visit John Smith's profile…"
Sound familiar? If you are using Social Media regularly, my guess is you are bombarded with friend requests. It seems the more friends you get on Facebook, the more others want to be your friend as well.
Being liked is heady. I mean, come on. Who among us isn't flattered on some level to be "chosen" as a friend, especially when that person is popular? It takes us back to the days in gym class when we stood patiently in a line waiting to be picked for the dodgeball team. Getting picked sooner rather than later became synonymous with how high on the popularity ladder you were. Picked last and you knew you were the biggest loser in the class.
So Hell yes! It feels GOOD to be invited to be friends with someone who looks nice, is attractive, and seems to have their act together. Not to mention, is already running with the "cool" crowd.
But at some point, the pink elephant in the room MUST be addressed: what, exactly, is the point of having so many "friends" on Facebook? Is it really in our best interest accept all friend requests on Facebook? How many of these new "friends" can we realistically expect to get to know and form decent relationships with? Is social proof in the form of mutual friends enough to convince us to open up our personal profiles with strangers online?
How often are you faced with friend requests like this? What are your personal guidelines for making and accepting friends on Facebook? Please share any stories you believe would benefit readers about successfully navigating Social Media!