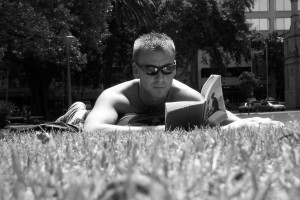 The best book is the one you are reading right now.
It could be a comic book, a textbook, a book about how to cook the most delicious Thanksgiving ever.
What's in the book isn't nearly as important as the act of reading the book.
That said, the best book I'm reading right now is called The War of Art: Break Through the Blocks and Win Your Inner Creative Battles by Steven Pressfield. It is far and away one of the best books I've ever read, and that says a lot coming from a former English teacher.
Full of insights, wit, and practical tips for moving forward in your creative endeavors, Pressfield's book is a must-read for anyone who isn't where you'd like to be yet, professionally, artistically, or otherwise.
The War of Art: Just read it. Definitely the best book for all of us who need a nice kick in the ass from time to time to keep moving forward. 🙂