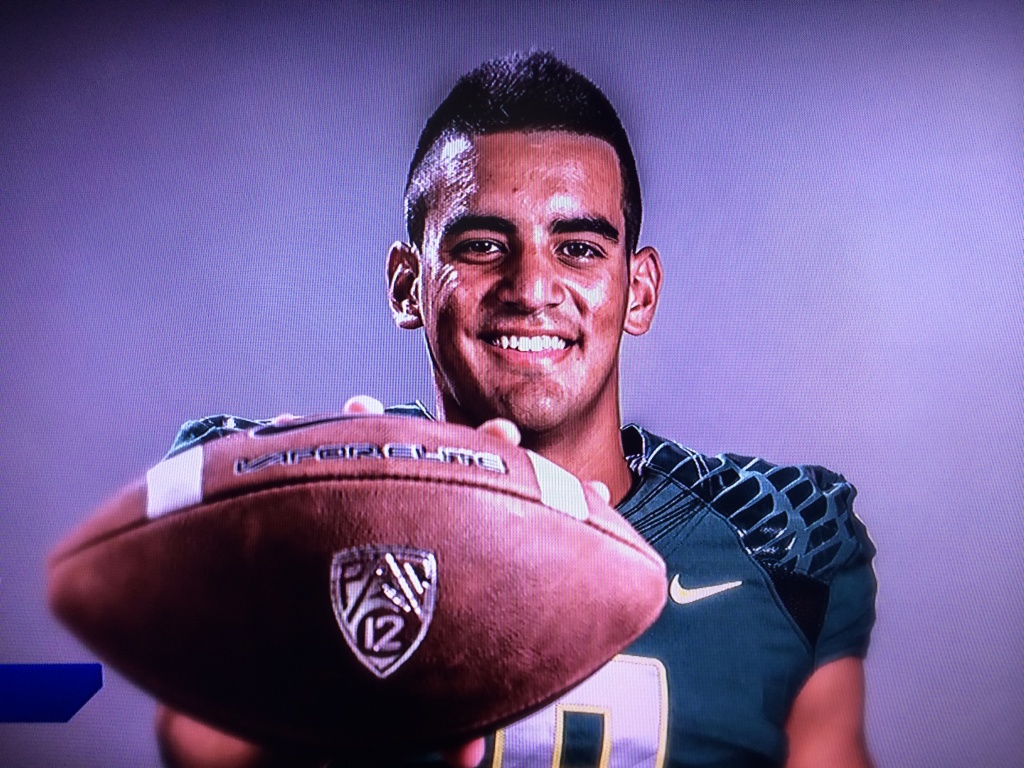 My parents always told me to be respectful to anyone you meet and to live your life that way. There's no reason to be angry or impolite. Just be who you are and respect everyone you meet.
Marcus Mariota
Today is most likely Marcus Mariota's final game playing for the Oregon Ducks in Autzen Stadium.
Just writing that sentence brings tears to my eyes.
Of all the Oregon Ducks players I have grown to know and love over the years, not one comes close to Marcus Mariota.
He is that special.
And I'm not talking about his athleticism. That's a given, and it's what everyone talks about.
I'm talking about the spirit that lives inside him. The content of his character. His soul.
Beyond those beautiful brown eyes and genuine smile, beyond the record-breaking stats and natural instincts for the game of football, beyond the quiet leadership that commands respect without yelling, is a young man who knows who he is, where he comes from, why he's here, and that it's not all about him.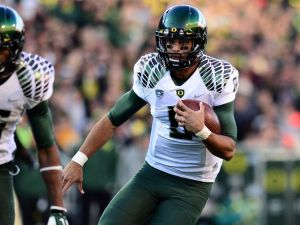 I love watching him play, and I'm going to miss seeing #8 take the field each week during the season. I'm going to miss teasing my daughter, a freshman at UO this fall, about him being my future son-in-law. But what I'll miss most is the sense of calm he brings to his teammates and to us fans, that no matter what happens out there on the field, his presence makes everyone believe it's going to be okay.
As of today, he is the front runner for this year's Heisman trophy. He certainly deserves it. And it's about time a young man with Mariota's exceptional combination of athletic prowess and good character is recognized with college football's most prestigious player accolade.
Talk of a first round NFL draft pick has also been steady for over a year. With the 2014 season coming to an end, that talk is getting louder.
Regardless of what happens in his next adventure, though, Marcus Mariota will carry his magic wherever he goes, making those who get to be a part of it that much better for having been in his world.
If only for a little while.
I'm sure grateful I got to witness as much of it as I did. Which is why my tears today as I watch him take the field at Autzen Stadium one last time will be bittersweet. It's hard to say good bye knowing things will never be the same again.
One thing's for sure. Marcus Mariota made this Oregon Ducks football fan's viewing experience that much more enchanting. Looking forward to seeing where his magic takes him next.
XO