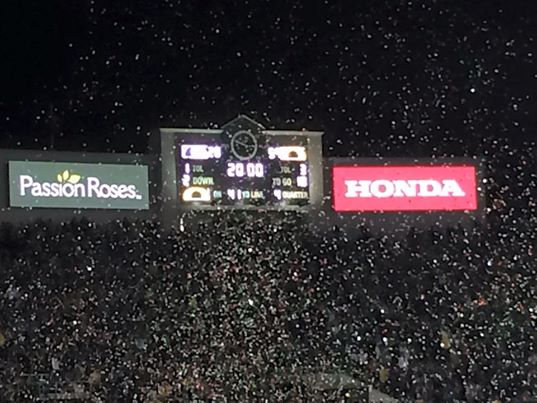 With a handsome win (59-20) over Florida State at the 2015 Rose Bowl yesterday, the Oregon Ducks are currently America's team.
Case in point: I received a text from my sister-in-law who lives on Long Island featuring a photo of my nephews watching the game wearing head to toe Oregon Ducks gear.
"What a game!" the text read. With a smiley face.
The boys were grinning ear to ear.
The talk on sports media across the nation today was heavy on how the Ducks handedly destroyed the Noles — and how much everyone seems to be enjoying it.
Jim Rome made it clear that everyone in America except the population living inside the city limits of Tallahassee, Florida were cheering for the Ducks yesterday.
Early polls are showing the Ducks are favored to win against the Ohio State Buckeyes in the CFP National Championship on January 12th.
I was fortunate to be at the game, seeing history made one play (and several turnovers) at a time.
It was something to behold.
America's team, indeed.
Fitting that their final game will be played inside Cowboy Stadium in ten short days from now.
Arlington, here we come.