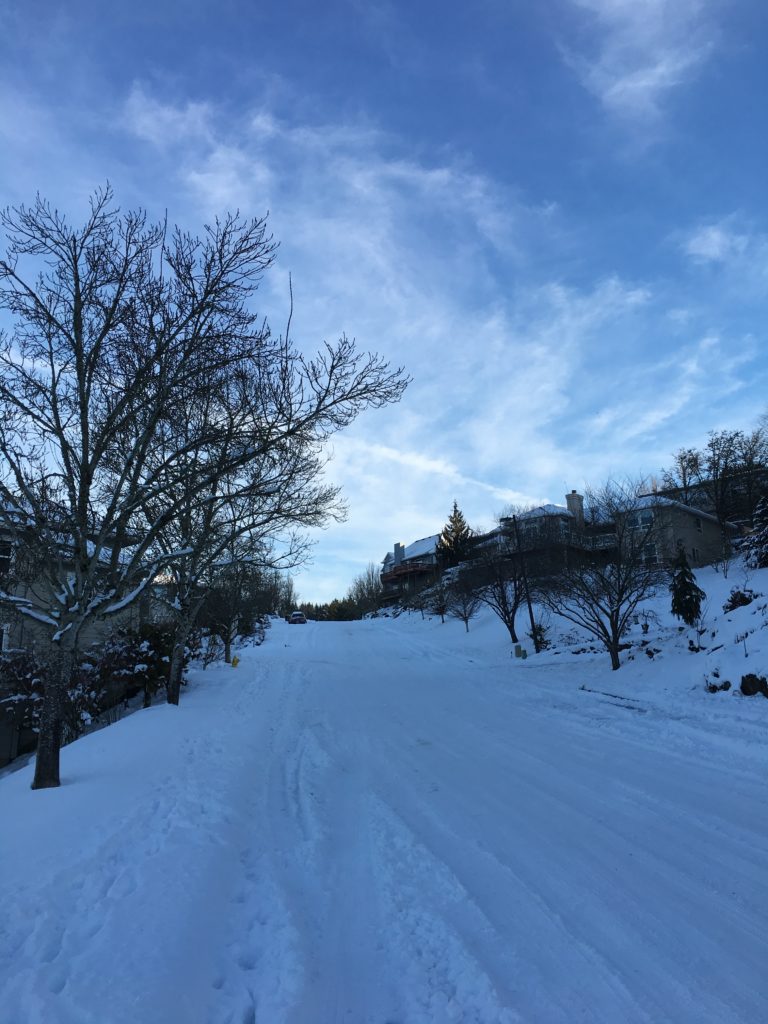 The snow is still here.
So is the ice.
Covering the city from east to west, it holds thousands hostage in its glacial grip.
Snowmageddon Portland rages on.
Many people are complaining.
"I have cabin fever!" they post on social media.
"When will #snowmageddon end?!" they wail.
"Please please PLEASE don't close the schools another day!"
Mad face. Sad face.
The End of the World?
The honeymoon phase of a snowstorm has a very short shelf life for some people.
Once the top layer of snow thaws and freezes several times, sledding isn't as much fun as when the snow first falls, soft and powdery like super fine sugar.
And you can only build so many snowmen.
Even kids are antsy. Parents can take only so much family togetherness.
It can feel like the end of the world.
"I've never been so happy to be back at work!" thousands will report to their friends on Facebook once the thaw is real and all streets are clear.
11 Ways Snow Days Can Be Useful
Sure, being housebound when we're used to coming and going as we please can put a crimp in our style.
When we choose to see being snowbound as a chance to experience life differently, however, everything changes. Opportunities open up. The restrictions bad weather puts on us can lead to personal growth — or simply catching up on things we tend to put off because we are so busy doing so many things when weather isn't an issue.
Here are 11 ways to make use of the time snow days give us:
1. Get to know your neighbors. You know, the ones you only see coming and going as you are coming and going yourself. Move beyond the courtesy wave and actually talk to them. Snow brings people outside, at least initially. To assess the situation, perhaps shovel a path to the sidewalk. It can be a terrific bonding experience.
2. If you happen to be the one on your block with viable transportation (aka a rig with snow tires or chains), offer to go to the store for folks who are housebound. Pick up a few staples and deliver them cheerfully. Good deeds bring good feelings to all.
3. Catch up on projects you've been "meaning" to do, but are just too busy (or lazy). Clean out a closet or two. Rearrange the furniture like in a favorite photo on Pinterest. Make a pile of items to donate to charity. See who can come up with the biggest pile of giveaways and award a silly prize for being most charitable.
4. Play a board game with your kids or significant other. Bond. Laugh. Create memories to share at the table years later. One of my favorite childhood memories is the week when New York was hit with an ice storm, knocking out the power for days and dumping a lot of snow across the tri-state area. Everything came to a standstill and we were housebound for the entire week. My bother and I went sledding every day down our hill. We ate dinner as a family and played Scrabble by candlelight. Dad had the wood stove roaring all day. I never slept so well or felt as close to my family as I did that week. My parents made it a grand adventure and I'll cherish that memory forever.
5. Venture outside your dwelling and take photos of the snow from different angles. (If you can't get outside, take photos from different windows.) Up close. Panoramic. Selfies. Kids. Pets. Post them on social media with funny or quirky comments. Turn these photos into an album using one of the many album-making apps like Shutterfly or Tiny Prints. Give it a fun title like #Snowmageddon2017 or "The Big Snow." Order copies to share with family who live elsewhere.
6. Read that book you've had sitting on your desk for weeks, or months. Read another book you loved at a different time in your life. How is its message different to you today?
7. Take a walk in the snow. Feel the cold air tingle on your cheeks, in your lungs. Dress properly, of course, with good footwear and clothing.
8. Tell snow stories about your childhood (see example in #4). If you didn't grow up in a snowy climate, talk about what your ideas of snow were when you were a kid. Did it intrigue you? Fascinate you? Did you dream about seeing snow for real one day? What was your first or earliest snow memory?
9. Delete old files, programs, photos from your computer. This is most likely one of those high tech "chores" you avoid. But having an unexpected stretch of time like that offered up on snow day number five can be the perfect opportunity to get rid of excess bloat.
10. It's also a great time to update you LinkedIn profile, another task that often gets shoved to the bottom of the priority list. Add new accomplishments. Upload a new profile picture. Invite five new people to join your network. Make sure to take a minute or two to write a personal note with each invitation vs. sending the stock message.
11. Sometimes, there's nothing like a snow day to fire us up for our next vacation to warmer climes. If the cold, ice and snow are truly driving you nuts, open up Pinterest and gawk at the multitude of sunny destinations to your heart's delight. Make notes of what destinations look especially appealing. Create a board exclusively for these warm escapes. Open your calendar and declare when you will take a few days off, and where you will go. Block these days off in a bright color like turquoise or umbrella drink pink.
Like everything else in life, snow days won't last forever (even if you live above the Arctic Circle, there's the "thaw"). It will melt — eventually — and life will speed up again and you may find yourself remembering fondly the down time a snow day or five afforded you. Embracing conditions for what they are and finding ways to leverage their gifts can up the extraordinary factor of our lives.
In the end, another snow day can be a great opportunity or a terrible misfortune. Given the choice, why not choose well?