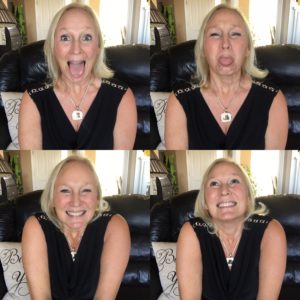 Hi, I'm Mary Lou. I love helping people experience the extraordinary.
Sometimes that involves disruption, but not in some Thelma & Louise way where havoc and mayhem ensue followed by driving off a cliff. (There is a difference between strategically pushing the envelope and just being stupid.)
Experiencing the extraordinary simply means being willing to travel outside of the everyday just enough so that when you return from our experience together, you see things differently.
As in…
Less average.
Because…
Life's too short to be average, folks!
After spending some time with me, I want you to have:
A sparkle in your eyes
A spring in your step
A rosy glow on your cheeks
I also want people to say to themselves when they see you:
"I want what s/he's having!"
My Mission
Nothing is sadder to me than seeing people carrying around life's disappointments in slumped shoulders, rounded backs, eyes constantly cast down at their phones as if some magical answer is suddenly going to jump out at them from Snapchat or Twitter, throwing confetti, handing them a trophy and playing their song.
Every time I see someone like that, I want to tell them to "Snap out of it!" the way Cher tells Nicolas Cage in the iconic movie Moonstruck.
My mission is to guide people along this crazy life journey we're all on, and help you love every last bit out of it. With my unique set of life experiences, from white water rafting guide in Alaska to published author to English teacher to award-winning poet to Mom to world traveler to business strategist to podcast host…
I get things done!
And I can help you get things done, too. So your project, your work, your life have more meaning, more purpose, more direction, more fun. (When was the last time you had any of that? Honestly?)
Why Work with Me?
I wish I could toss out a bunch of fancy jargon and cutting edge statistics from credible sources like the Harvard Business Review and New York Times to impress you.
I wish I had a stockpile of infographics with fancy illustrations showing you the one-size-fits-all path to experiencing extraordinary.
But I can't. It wouldn't be authentic. And it would be dishonest.
Because there is no one-size-fits-all blueprint for having an extraordinary experience you can just unroll and follow, step-by-step.
In the end, you just have to trust that working together is the right thing for you, if you decide to go down that path.
What I can tell you is this:
I am very good at what I do and I have a long list of people who will tell you the very same thing.
You Aren't Here to Be Average
If you're still reading this page, good for you. It means you're looking for different results and you'd like some help.
While I can tell you I have helped people to:
plan, write, and publish their books;
design exceptional learning experiences;
get ready for college;
figure out their next business or career move;
map out a branding and marketing strategy;
rediscover joy;
empower themselves with skills that matter and make a difference…
…these represent merely a handful of what's possible for us to create together.
Your particular situation or project may not fall into any of these categories. That's okay.
Your next step is to start exploring ways to be more extraordinary in what you're currently doing or what's next. I put together this complimentary guide to help you do that and you should take advantage of it right now. Just click the button to get started.

Want to skip the guide for now and get right to a conversation? No problem! Would love to set something up with you here.